Catch people doing things right, and then tell them – NOW!
When I stepped out in faith to start my own company, it was the stretch that caused me to reach into myself and discover talents, abilities and skills that I didn't know I had.
I discovered that being my own boss meant answering the telephone as well as meeting executives. I learned to make space for my talents. I realized that I could be more than I imagined.
Too often, we define our worth by our past achievements, and assume our history serves as qualification for a continuous career. Many of us have become overly dependent on our employers, expecting to be shielded from the winds of change. But the business world has changed dramatically, and we can no longer expect our past achievements to define our guarantee our future.
If we change our attitude and re-recruit ourselves for the job we're in or the one to which we aspire, we can re-ignite the enthusiasm and Winning Spirit we had on the first day of the job and take steps toward a brighter future.
FIVE WAYS TO PRACTICE NEW BEHAVIORS
Upgrade your skills. Earn the next degree or take professional courses to stay current in your discipline.
Take personal responsibility for your career.
Develop and implement an Action Plan.
Be flexible and adaptable. Embrace change, and be open to new ideas.
Ensure your net is working. Make a point of networking within and outside your immediate circle of influence.
Add value. Contribute 100 percent right where you are by being a problem solver.
---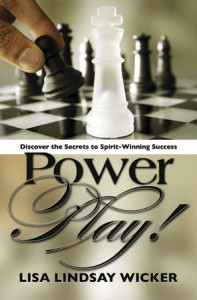 Power Play! Discover the Secrets to Spirit-Winning Success  by Lisa L. Wicker
Following in the footsteps of her trailblazing first book, The Winning Spirit: Building Employee Enthusiasm, Dr. Lisa J. Lindsay Wicker lays out steps for recognizing and developing the internal potential to achieve your goals and dreams. In Power Play! Discover the Secrets to Spirit-Winning Success, Dr. Wicker shares how to stretch, risk, and grow into a strong, fulfilling life, and explains: 12 steps for overcoming limiting beliefs, Why playing small doesn't serve you or the world, and 7 keys for unleashing your personal power. As a bonus, Dr. Wicker provides more than 95 Power Plays for career and personal success throughout the book. Drawing on her career and personal life experiences, this empowering book helps you overcome limiting beliefs, guides you to new ones, and step by step teaches you the secrets to powerfully play the game of life. Power Play! is a fantastic primer on how to use your personal power in a positive way to win!
https://www.amazon.com/Power-Play-Discover-Secrets-Spirit-Winning/dp/0978922433