By: Nicole Hudson
_____
History was made on March 1, 2017, when Consumers Energy received the Inaugural Career Mastered "Company of the Year" award.
This award was given due to their support for inclusion and the advancement of women's leadership. Consumers Energy was the first business to be named "Company of the Year." The special honor was presented during Women's History Month at the Michigan Career Mastered Women's History Leadership in Action Awards event, held in Dearborn, MI.
Jackson-based Consumers Energy, a 130-year-old utility company that provides electricity and natural gas to seven million residents in Michigan, was honored to receive such a prestigious recognition.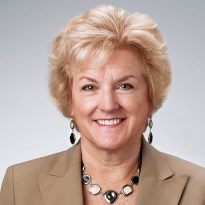 "This award is for all the women of Consumers Energy," says Mary Palkovich, vice president of gas engineering and supply, who was also recognized individually at the event as a Leadership in Action honoree. "Whether they are in the office engineering new electric services, in the trenches laying the foundation for our natural gas system, or in the board room guiding the future of our business – thousands of women go to work each day for the good of our state."
Leading the Way
Dr. Lisa Lindsay Wicker, founder of the Career Mastered Women's Global Business Collaborative and Women's History Month Leadership in Action Awards, explains the reasons why Consumers Energy was recognized with this award:
"Today's women leaders are game-changers. They take charge of their careers and take charge of the futures," says Dr. Wicker, who is also the founder of Linwick & Associates, LLC, a human resources firm with offices in Detroit, MI and Charlotte NC.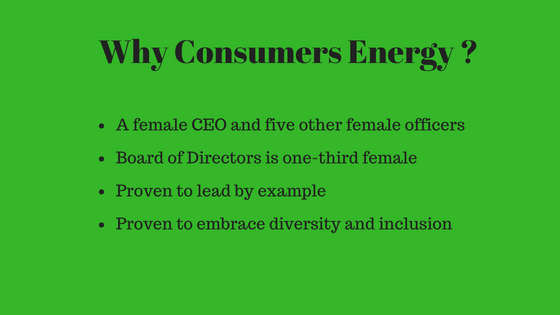 The award celebrates history by taking a look inside of successful women's careers, to enhance the process of women inspiring and encouraging one another. Women who have mastered their careers reveal exceptional stories and provide an expansive vision about women's success.
"These women have made their mark in business and are exceptionally strong role models of what a woman can accomplish. Giving recognition to deserving women and their companies will inspire future generations."
Career Mastered, which is now a growing global woman-to-woman's business collaborative, is making a powerful difference in women's leadership aspirations, while supporting future generations. Through in-person and digital programming with powerful and accomplished women, Career Mastered is designed to facilitate women supporting women to reach their career aspirations while giving back to the community. It is the only platform of its kind that combines women's history, leadership recognition awards, networking, talent access, and youth development to accelerate women's careers while making a positive difference and impact on the global business environment.
Michigan Poised to Make Changes
In an article published in June 2016 issue of Crain's, it was reported that, according to a Grand Valley State University Study, "Michigan's Fortune 500 companies outpaced their peers nationally by a slim margin in the percentage of female directors. In 2015, 22.3 percent of the board members of the Michigan Fortune 500 were female, compared to 20 percent for the larger group of Fortune 500 companies." The study also revealed a link between diversity and healthier profit margins.
With Michigan appearing to be moving into the driver's seat by helping to grow women leaders in executive and board positions, professional organizations such as Career Mastered and the Detroit-based organization Inforum, a professional women's alliance, help to provide connections to advance women into boardrooms by creating opportunities through seminars, networking, leadership courses and more.
Women Making Great Strides
According to the 2016 State of Women-owned Businesses Report, commissioned by American Express OPEN – with research provided by Womenable, "Women are now the majority owners of 30 percent of the country's businesses, up from 29 percent in 2007. These firms employ eight percent of the nation's private sector workforce."
The report also states that between 2007 and 2016, the greatest increase in the number of women-owned first has generally been in more traditional industry sectors.
With the increase of growth and diversity of women-owned businesses, organizations such as Career Mastered that provide support, education and recognition of women, are an asset to continued growth and positive momentum.
Consumers Energy Stands Out
Even though Michigan is ahead of the curve, according to Inforum's 2017 Michigan Women's Leadership Report, across all of the state's top 100 public companies, just 15 percent of board members are women and 13 percent are executive officers. And only nine percent of the highest-paid officer in Michigan's largest companies are women.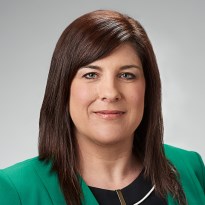 "We are committed to having a diverse and inclusive workforce that reflects the Michigan communities we serve," said Cathy Hendrian, senior vice president of human resources for CMS Energy and its principal subsidiary, Consumers Energy. "We have a deep bench of women doing critical work throughout our company, which continues to create leadership opportunities."
In addition to being a Career Mastered Top 50 Company for Women, Consumers Energy is committed to offering their employees a vast array of ways to improve themselves personally and professionally. They offer career development programs, such as Technical and Safety Training, Educational Assistance Programs, online training, Project Management Certifications and much more.
Consumers Energy is unique in that in a traditionally male-dominated industry, they boast several women executive officers, with Patricia K. Poppe as the President and Chief Executive Officer of CMS Energy.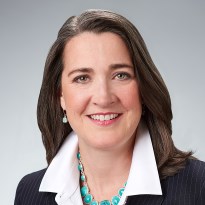 "We're committed to hiring talented co-workers with diverse backgrounds and life experiences. An inclusive workforce ensures we have the ideas, experiences, and knowledge needed to meet the unique needs of our customers today and in the future," said Hendrian. "In addition to our hiring practices, we have several employee resource groups and organizations dedicated to the advancement of women in leadership. It's an honor to be recognized for our accomplishments, but our journey has just begun."By: Nicole Hudson